Evil Eyes Rings
Breathe Rings
Tree Necklaces
Moon Ring
Trees Bracelet
Large Onyx Swirl
Blog
Come see me set up and selling my jewelry all three days with the Concord Arts Market at  Intown Concord's 49th Annual Market Days Festival! It will be our biggest...
NEW in my shop! Embrace Ring
I'm excited to show off my new design made from sterling silver wires that come together and cross over in a way that feels like a hug for your finger. The Embrace ring is a lovely ring that stands out in a crowd. Each ring is made to order and will be unique just for you.
shop now
In the Studio
Welcome! Everything you see here is handcrafted in my studio in Concord, NH. 
A little about me....
I was born in Santa Barbara, CA. Raised in the Air Force, I traveled all over the world and gained a great appreciation and love for art. In High School, I joined a lapidary club in Florida and learned the art of stone cutting which naturally led to the desire to learn to set the stones. After college I moved to Atlanta, GA to study the art of jewelry design and became a Goldsmith and Silversmith. I worked as a jeweler for a high-end art and jewelry gallery for many years before moving with my family to New Hampshire.

Custom jewelry artistry has always been my greatest passion. I look forward to designing and fabricating each piece of jewelry and seeing the joy it brings others.
New Hampshire
Located in Concord NH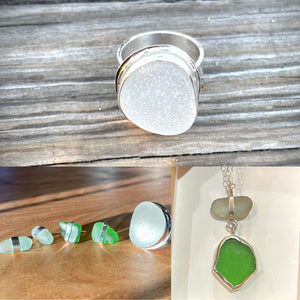 Love how this group of custom sea glass pieces turned out... all found by the customer herself on the beaches of Maine.
Green and White found sea glass ring, earrings, and necklace in sterling silver. Custom settings by Kitty
Instagram Post